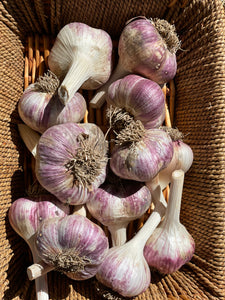 SEED GARLIC PRE-ORDER
Creme de la Rasa has a well-rounded and sweet flavour. This variety is from Rasa Creek Farm, and was a mutation that turned out to be a real winner! This is a rocambole/purple stripe variety, the paper is pink/purple and white. The cloves are small to medium size in each bulb, with 6-9 cloves per bulb. 
Medium size bulbs are 1.75"-2"; 10-14 bulbs/lb.
Large size bulbs are 2"-2.5"; 6-10 bulbs/lb. - this is the ideal size for planting
Extra Large size bulbs are 2.5"-3.5"; 4-6 bulbs/lb.
Discount will be applied at checkout for bulb quantities of 20 or more.